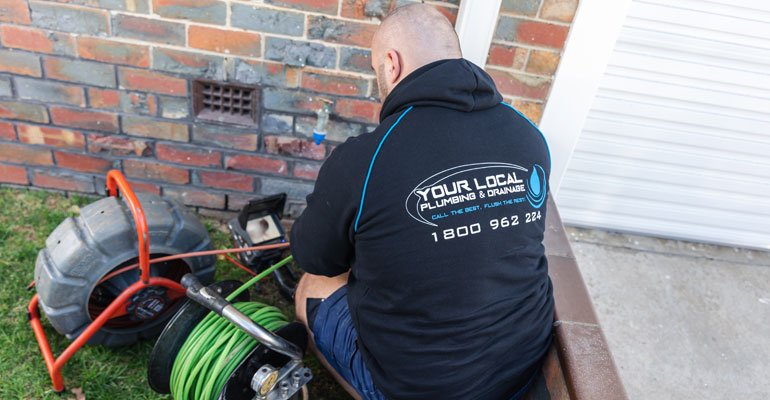 Blocked drains are a common plumbing problem and a major nuisance. Whether your child has dropped a toy in the toilet or hair has clogged up the shower drain, you may find yourself dealing with blocked drains at some point.
We, at Your Local Plumbing & Drainage, offer speedy drain-cleaning services. Our expert team will conduct a full and thorough inspection of your drainage problem to identify the root cause of your issue. With over 10 years of experience serving the Melbourne area, we're the local plumbers you can rely on.
Free CCTV Camera Inspection With Every Drain Clean
Our team of experienced plumbers are available all hours of the day and night, including weekends and holidays. Call us on 1800 962 224 to book an appointment for drain cleaning.
We offer Blocked Drains plumbing service Victoria-wide including plumber Point Cook, plumber Hoppers Crossing, plumber Altona, plumber Footscray, plumber Caroline Springs, plumber Essendon, plumber Braybrook, plumber Geelong, plumber Werribee, plumber Williamstown.
Are broken, leaking, blocked pipes and drains a source of constant worry for you? If yes, avail yourself of our relining services and get them fixed the easy way from the inside without engaging in the troublesome digging process.
Repairing an entire plumbing system or just a pipe or a drain is a task that demands expertise and our plumbers at Your Local Plumbing are versed with all the efficient methods of repairing pipes of any shape and size.
Old and rusted pipes, other fittings, and blocked drains need to be replaced without any delay to deal with all the problems associated with them in one go. So, if you are in need of any blocked drain-related replacements, contact us today.
High Pressure Jet Blasting
When faced with blocked drains, high-pressure jet blasting is the most convenient and efficient method. So, if you have a blocked drain at your home or your workspace, we will bring the necessary equipment to you and efficiently finish the work.
Electric Drain Snake Machine
With our electric drain snake machines, no drains are hard to clean and unblock, no matter how narrow it is. We specialize in proper and thorough cleaning of your drains and aim to deliver only the best quality service using our high-quality machines.
When you call us to deal with blocked drains, one of the first things we'll do is use a camera to find the obstruction. A CCTV camera inspection can determine whether the problem is a toy, hair, plants, or something else.