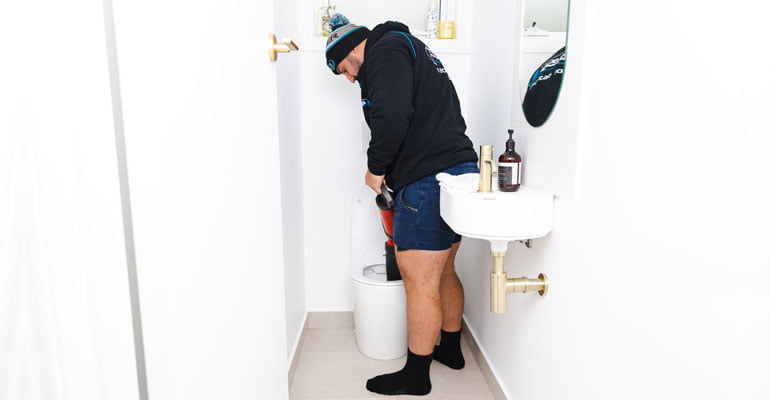 How to know that your toilet is clogged? Check if the water level of your toilet is too slow for flushing or if the water level rises up to the top of the toilet. That's an assured sign of a blocked toilet.
Many keep delaying and procrastinating to getting the clogged toilet treated as they feel the blame is their own to take and don't want to feel the shame of it. This leads to more clogging.
However, the causes for it are many such as too much or poor-quality toilet paper, nappies and baby wipes, feminine hygiene products, tissues, etc. all which don't dissolve in. Low water pressure that fails to remove material with enough for pressure or toddlers with toys also clog toilets apart from an external clogged drain line outside.
Our team at Your Local Plumbing & Drainage, believes in serving our customers with old-fashioned friendly service. We will listen to you, determine the cause of your plumbing problems and offer fast and efficient repairs.
Whether you need a toilet installation, tap repairs or hot-water system maintenance, we ensure that you will only get the best prices from us. We give you accurate estimates without any hidden charges!
For these and other things you would require a plumber you can trust? Your Local Plumbing & Drainage is the premier provider of all general plumbing and maintenance services in Melbourne. We provide excellent services for all your toilet plumbing & maintenance, plumbing renovation and complete sewer line replacement jobs at affordable prices. We take pride in all areas of work we do.
Our experts strive to exceed your expectations by ensuring that you receive the best service. Call us on 1800 962 224 today to book an appointment.
We offer Blocked toilets plumbing service Victoria-wide including plumber Point Cook, plumber Hoppers Crossing, plumber Altona, plumber Footscray, plumber Caroline Springs, plumber Essendon, plumber Braybrook, plumber Geelong, plumber Werribee, plumber Williamstown.