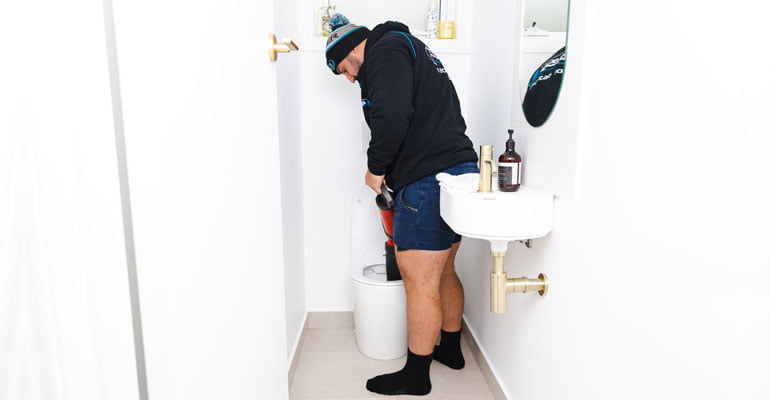 Expert Services for Blocked Toilets Geelong
A blocked toilet is every Geelong homeowner's worst nightmare! You could be going about and having a regular day, but suddenly your toilet clogs up, and your plans for the day are flushed down the drain.
We understand how inconvenient a blocked toilet can be. It comes with no warning and has the potential to become a threat to the structural integrity of your establishment and put your health and safety at risk. Thus, it is essential that you call in a professional immediately for a prompt and lasting solution for your blocked toilets Geelong. At Your Local Plumbing, our team of trained and licensed plumbers is equipped with a complete range of tools and equipment to address any plumbing emergencies at the earliest.
As a homeowner in Geelong, you will agree that the worst thing about a blocked toilet or any plumbing emergency is that they happen at the oddest times. At Your Local Plumbing, our team of emergency plumbers is on call 24/7, be it a weekend or a public holiday. If you think your toilet is blocked, call us immediately, whether in the middle of the night or weekend. We will arrive at your location within the shortest time and perform a thorough inspection. Following this, we employ the latest techniques and tools to offer an efficient and affordable solution within optimal time frames.
With over a decade of experience in the local plumbing industry, our blocked toilet plumbers in Geelong provide effective and long-lasting solutions for your plumbing and drainage systems to enhance their efficiency and durability. Connect with our experts to learn more about our services.

Affordable Prices, No Hidden Costs
Our uniquely tailored packages assure that you get the best prices for top-class services with all costs transparent and extremely competitive.

10 yrs+ of Experience
Our team of highly qualified and experienced experts makes sure that work is done with the utmost professionalism and especially sought after service.

100% Customer Satisfaction
We strive to achieve customer satisfaction, and maintain high standards of workmanship at all times.

Serviceable & Available 24*7
We firmly believe that quality services are always precisely focused on round the clock servicing and being on-time which we completely abide by.
What are the Signs Your Toilet is Blocked?
As a business or homeowner, you know that the toilet is the most needed and used fixture at your establishment. So, if you have encountered blocked drains, you understand the frustration and the urgency to unclog them at the earliest.
In addition to the inconvenience caused, toilet blockages, if ignored, can lead to backflows and flooding. Thus, if you encounter a blocked toilet in Geelong, you must immediately call licensed plumbers to unclog your toilet before it becomes a severe health and safety hazard.
However, with early intervention, you can avoid unpleasantness and inconvenience. How? Our experts say that, as property owners, you can keep an eye out for some of the signs listed below. These signs indicate something is wrong with your toilets and might need expert intervention. Some common signs of a blocked toilet in Geelong include:
The water level in your toilet is very low or almost non-existent.
You notice a persistent foul odour coming from your toilet or other drainage outlets.
A constant gurgling sound comes from your toilet, even when it is not in use.
It takes significantly longer than usual to flush the toilet.
The toilet does not flush properly.
You notice there is a backflow in the toilet.
Have you tried everything from plungers and drained snakes to chemical cleaners, but nothing seems to work? Fortunately for Geelong residents, our team at Your Local Plumbing are experts at solving a range of plumbing concerns, including unclogging toilets.
Did you notice some of these signs, or do you think a toilet on your premise is not operating optimally? Whatever your concern, call our experts for a prompt and affordable solution that enhances the longevity and durability of your plumbing and drainage systems.
Trusted Blocked Toilets Plumber in Geelong
As your blocked toilets plumber in Geelong, we are versed in all effective block detection and toilet unblocking techniques. Once you give us a call, we will be quick to arrive at your location and deliver the required assistance. We understand that a blocked toilet is a plumbing emergency that requires immediate attention and, if not resolved quickly, can hinder the normal functioning of your entire household or commercial space. So, we never give in to delays of any kind and deliver on-time solutions.
With over a decade of experience in the industry, we are fully equipped to unblock even the most complex blocked toilets in Geelong.
Before we begin the unblocking procedure, we initiate a thorough inspection to rightly detect the issue and avoid any unnecessary complications.
Depending on the complexity of the blockage, we employ the most effective unlocking procedure and deliver a durable solution.
With all the modern equipment and tools at hand, we initiate a less-intrusive procedure and keep the work timeframe and the inconvenience caused to a minimum.
To ensure your satisfaction, we deliver an after-work clean-up service and leave behind mess-free spaces and happy faces.
Once you avail of our blocked toilets services in Geelong, we will adopt a fully streamlined procedure and ensure a flawless delivery of work. We will dispatch the best-equipped team to cater to your needs and deliver a satisfactory and efficient service.
We will conduct a CCTV inspection to detect the blockage.
Once we detect the blockage, we will devise the most effective solution.
We will discuss the project specifications with you and undertake the work with your due permission.
Once we finish the work, we will clean the area of any spillages.
If you have any specific requirements, you can always share them with our blocked toilet plumbers Geelong and have a service tailored to your requirements.
Best in class services with unmatched quotes by a team of dedicated experts meeting all your plumbing requirements under one roof!
Geelong Blocked Toilet Experts You Can Rely On
Our Blocked Toilet Geelong expert say that one of the most common reasons your toilet is blocked is that you must have flushed something "unflushable" down the toilet. The gradual accumulation of such "unflushable" items in your sewer pipe leads to a blockage, causing your toilet to clog. If left to fester, the blockage grows in size and leads to concerns like backflow and flooding.
However, there could be other reasons, as well, why your toilet is blocked. It could also be because of constant low water pressures, cracks in the sewer pipes or the deteriorating condition of your drainage pipes. Often homeowners in Geelong use chemical toilet cleaners to unclog their toilets. However, the cleaners are corrosive in nature and erode the surface of the pipes from within. Thus, using these cleaners is counterproductive and often leads to more serious problems in the long run, such as cracked and broken drainage pipes.
So what should you do in case there is a toilet blockage? Call our trusted and reliable local plumbers in Geelong. We have a team of emergency plumbers who are always on standby. So no matter when you have an emergency, we will reach you within the shortest time after you place a call.
We use top-of-the-line diagnostic tools like CCTV inspection to find the cause behind your blocked toilets Geelong. Based on our diagnosis, we will decide on a course that solves the problem non-invasively without causing inconvenience.
At Your Local Plumbing, we offer a wide range of services like plumbing installations, hot water system maintenance, drain pipe repairs and pesky blocked toilet emergencies in Geelong. We provide premium and prompt services at highly competitive prices.
Call our experts to schedule an appointment or learn more about our services.
We offer Blocked Toilets Geelong service Victoria-wide including plumber Point Cook, plumber Hoppers Crossing, plumber Altona, plumber Footscray, plumber Caroline Springs, plumber Essendon, plumber Braybrook, plumber Geelong, plumber Werribee, plumber Williamstown.
Call us today For all your Plumbing needs under one roof
We believe in absolute professionalism and take pride in holding expertise in every area of our work. Whether you need a simple installation, renovation, or complete sewer line replacement, we offer a wide range of plumbing services to meet all your needs.
"*" indicates required fields