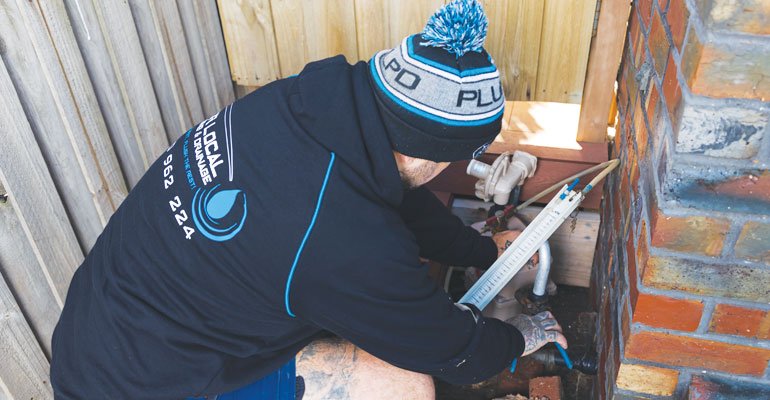 Get Professional Gas Fitters for Your Gas Fitting Repair & Maintenance Projects
Are you tired of your high electricity bills and looking to switch to a greener, more environmentally friendly, sustainable option? If you are, then gas is economically viable. However, given the inflammable nature of gas, it is dangerous to handle installation, repairs, or maintenance work on your own. Thus, it would be best to always rely on skilled, trained, and fully licensed gas plumbers to undertake the job for you.
With more than a decade of experience operating in the local plumbing industry, our experts will help you smoothly transition from your present energy resource to gas safely and effortlessly. We are a team of thoroughly trained and licensed gas fittings specialists in Melbourne. Are you looking to convert to environmentally friendly, sustainable energy resources for your residential or commercial property? At Your Local Plumbing, our gas plumbers will help you with all your gas fitting repair, maintenance, and installation needs.
Are you still sceptical about whether switching over to gas is the right option for you? Talk to our experts about your concerns. Based on your needs, energy requirements, budget constraints and other factors, they will assist you in making your choice. Additionally, we will help you transition from your current energy source to gas without causing any inconvenience.
Connect with our experts or schedule an appointment to learn more about the benefits of switching over to gas. Do you need routine maintenance for your gas hot water system, equipment upgrades, gas oven repair and installation, or just an inspection for gas leak repairs? We can help you with it all and even more!

Affordable Prices, No Hidden Costs
Our uniquely tailored packages assure that you get the best prices for top-class services with all costs transparent and extremely competitive.

10 yrs+ of Experience
Our team of highly qualified and experienced experts makes sure that work is done with the utmost professionalism and especially sought after service.

100% Customer Satisfaction
We strive to achieve customer satisfaction, and maintain high standards of workmanship at all times.

Serviceable & Available 24*7
We firmly believe that quality services are always precisely focused on round the clock servicing and being on-time which we completely abide by.
How Do You Know There is a Gas Leak on Your Property?
As a homeowner in Melbourne, you will agree that one of the scariest feelings is smelling gas and not knowing its origin. An undetected gas leak is dangerous, given how highly inflammable gas is. Thus, it is crucial to understand the signs indicating a possible gas leak that needs immediate repairs. Listed here are some signs that homeowners can keep an eye out for:
You are receiving unnaturally high gas bills.
Your gas appliances are not performing optimally.
The hot water system at your home takes a long time to start up
Your gas heater or oven takes longer than usual to heat up.
There is a persistent odour of leaked gas.
A gas leak, if ignored, can put you and your establishment at grave risk. So, if you are experiencing any of the above or suspect a gas leak on your property, it is best to have it inspected at the earliest.
At Your Local Plumbing, we use advanced inspection tools to spot a gas leak accurately. Depending on the cause of the leak, we use top-of-the-line tools and techniques to address the solution for prompt and efficient repair.
We understand that all gas-operated appliances operate differently. Moreover, every manufacturer has their safety protocols and warranty specifications. Hence, we only work with 100% trained, qualified, and licensed professionals with expertise and experience in such situations.
Call our experts for gas leak repairs on your property or other gas fitting services in Melbourne.
Best in class services with unmatched quotes by a team of dedicated experts meeting all your plumbing requirements under one roof!
Why Avail of Our Gas Fitter Services?
Gas fitting repair and maintenance services are highly sensitive undertakings. Even the slightest mistake can lead to serious accidents, such as fires or explosions caused by gas leaks. The law in Victoria, Australia, clearly states that fully qualified and licensed gas plumbers must handle all gas fitting services. It is because such gas plumbers have the training and expertise for handling all types of gas fittings. They comply with the specifications set by the manufacturers, ensuring that your fittings' warranty remains intact.
As the preferred local licensed gas fitting plumbers in Melbourne and the surrounding suburbs, we have operated in the industry for over a decade. In our years, we have helped numerous home and business owners with various gas fitting projects in Melbourne. Some of the services we provide include the following:
Gas Fitting Repair & Maintenance
Gas Leaks Repair
Gas Hot Water Systems
Gas Heater Repairs & Installation
Gas Oven Repairs & Installation
Gas Heater Service
For gas fitting repair and maintenance projects, you must rely only on fully licensed and experienced gas fitters. At Your Local Plumbing, we work with licensed professionals with extensive experience working on residential and commercial gas fitting projects in and around Melbourne.
Are you looking for reliable plumbers for gas hot water system maintenance or a specialist gas fitter for gas oven repairs and installation? Our experts offer a wide range of high-quality gas fitting services. Connect with us to learn more about how we can help you with your gas fitting servicing and repair needs at highly competitive prices within optimal times.
We offer Gas Fitting plumbing service Victoria-wide including plumber Point Cook, plumber Hoppers Crossing, plumber Altona, plumber Footscray, plumber Caroline Springs, plumber Essendon, plumber Braybrook, plumber Geelong, plumber Werribee, plumber Williamstown.
Call us today For all your Plumbing needs under one roof
We believe in absolute professionalism and take pride in holding expertise in every area of our work. Whether you need a simple installation, renovation, or complete sewer line replacement, we offer a wide range of plumbing services to meet all your needs.
"*" indicates required fields