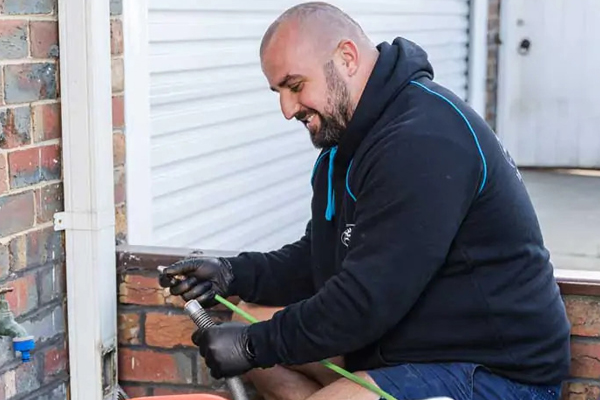 Reliable Drain Cleaning Services in Geelong
Need a reliable solution for your drainage problems in Geelong? Your Local Plumbing is here to put an end to your search. With our exceptional service and decade-long experience, we stand out as the premier option for all your drain cleaning needs.
As a family-owned and operated business, we prioritise building strong, long-term relationships with our customers. When you choose us as your drain cleaner in Geelong, you can expect personalised attention, friendly service, and a genuine commitment to your satisfaction. We believe in going above and beyond to ensure that your experience with us is nothing short of exceptional.
We understand that plumbing problems can be stressful, so we strive to simplify the process. Our approach is all about providing a hassle-free experience. We offer straightforward quotes, easy-to-understand processes, and effective solutions. We won't confuse you with technical jargon or spring unexpected costs on you. We promise to deliver honest and reliable service that you can trust.
So, whether you're dealing with a minor blockage or a more complex drainage issue, our team of experts is equipped with the knowledge and tools to tackle the job efficiently. Call us today!
Find Professional Geelong Drain Cleaner Near Me
When searching online for a "drain cleaner near me or plumber near me", we recommend taking a few extra minutes to read authentic Google reviews before deciding. By exploring the experiences and feedback shared by real customers, you can gain valuable insights into the quality of service offered by various plumbing professionals.
At Your Local Plumbing, we are immensely proud to have received over 60+ 5-star reviews from our valued customers. These testimonials reflect our commitment to providing top-quality drain cleaning services in Geelong.
We believe that by doing your research and reading about real customer experiences, you can make a well-informed decision when hiring a Geelong drain cleaner. Choose a trusted professional with a proven track record, like Your Local Plumbing, and enjoy peace of mind knowing that your plumbing needs are in capable hands.
Why Choose Us For Drain Cleaning Geelong?

Affordable Prices, No Hidden Costs
Our uniquely tailored packages assure that you get the best prices for top-class services with all costs transparent and extremely competitive.

10 yrs+ of Experience
Our team of highly qualified and experienced experts makes sure that work is done with the utmost professionalism and especially sought after service.

100% Customer Satisfaction
We strive to achieve customer satisfaction, and maintain high standards of workmanship at all times.

Serviceable & Available 24*7
We firmly believe that quality services are always precisely focused on round the clock servicing and being on-time which we completely abide by.
Expert Drain Cleaners that Geelong Residents Trusts
Blocked drains can be a major hassle and cause much inconvenience. But worry not when our team of professional drain plumbers is here to help. We understand the urgency of the situation and are committed to providing prompt and efficient service.
One of our top priorities is your convenience. We aim to make everything as convenient as we can for you. We offer a seamless service with a $0 call-out fee. You can rely on us to assess the situation without any financial obligations or commitments on your part. We believe in transparent and fair pricing, so you can trust that there won't be any surprises.
We take immense pride in our ability to address emergencies promptly. When you have a critical blocked drain issue that needs immediate attention, we guarantee an arrival time of 30 minutes. Our team understands the importance of addressing these problems promptly, and we are fully equipped to handle them.
How Often Should You Get Drain Cleaning in Geelong?
If you're wondering how often you should get drain cleaning in Geelong, the answer depends on a few factors. Generally, it's a good idea to schedule Geelong drain cleaning services at least once a year to prevent any major clogs or blockages from occurring.
However, if you have a busy household or a commercial property with high water usage, you may need more frequent cleanings. In such cases, it's advisable to have your drains professionally cleaned every six months or quarterly to keep them in optimal condition.
Certain signs can indicate that your drains need immediate attention. If you notice slow drainage, recurring clogs, gurgling sounds, or unpleasant odours coming from your drains, it's essential to have them cleaned as soon as possible to avoid more significant issues down the line.
Remember, regular drain cleaning not only prevents inconvenient clogs but also helps maintain the overall health of your plumbing system. It can extend the lifespan of your pipes, prevent leaks, and ensure the efficient flow of wastewater.
Stormwater & Hydro Jet Drain Cleaning Geelong
When it comes to stormwater drain cleaning in Geelong, we are the experts you can rely on. Our team is equipped with advanced technology and techniques to clean and clear stormwater drains and pipes effectively. Using high-pressure water jetting, we can remove debris, sediment, and blockages, restoring the flow and functionality of your drainage system. Hydro jet drain cleaning in Geelong is a safe and environmentally friendly method that eliminates the need for harsh chemicals.
Whether you're dealing with clogged stormwater drains or blocked pipes, our skilled technicians can provide prompt and efficient solutions. With our expertise and efficiency, we will promptly address your plumbing problems and ensure that your drains are flowing smoothly again.
How Much Does Drain Cleaning Cost in Geelong?
The costs of cleaning blocked drains can vary based on the cause of the blockage. Simple blockages resulting from organic debris in the kitchen sink are generally easier and less expensive to resolve.
However, more severe and complex blockages, such as those caused by a solid mass of wet wipes and grease in sewer pipes, require specialised equipment and expertise, leading to higher costs. Resolving such challenging blockages requires additional resources, which can increase expenses.
With our up-front pricing, you won't have to worry about hidden costs or surprises. We believe in being open and honest about our charges from the beginning, so you know what you'll pay for our services. It allows you to make well-informed choices and plan your budget accordingly.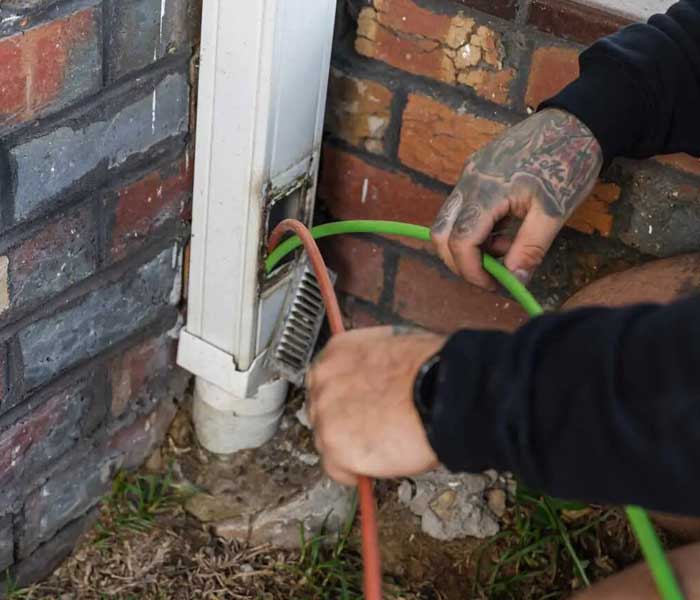 Benefits of Professional Drain Cleaning Services in Geelong
Professional drain cleaning in Geelong has several benefits that help keep your plumbing system in excellent condition. Here are some key advantages:
Prevent Clogs: Over time, debris, grease, hair, and other substances can accumulate in your drains, leading to clogs. Regular drain cleaning removes these blockages, preventing slow drainage and potential backups.
Improved Drainage: Water flows smoothly through the pipes when your drains are clean and clear. It ensures efficient drainage, reducing the risk of standing water and unpleasant odours in your sinks, showers, and toilets.
Extends Lifespan of Pipes: Clogged drains can put extra pressure on your pipes, leading to damage and potential leaks. By removing blockages, drain cleaning helps maintain the integrity of your pipes, prolonging their lifespan.
Eliminates Odours: Lingering odours from drains can be unpleasant and embarrassing. Professional drain cleaning eliminates bacteria and debris that cause foul smells, leaving your home smelling fresh and clean.
Prevents Costly Repairs: Regular drain cleaning helps identify and address potential issues early on. By catching problems before they escalate, you can avoid major plumbing emergencies and costly repairs in the future.
At Your Local Plumbing, our skilled plumber Geelong use advanced techniques and equipment to ensure thorough cleaning and optimal functioning of your drains. Contact us today to schedule an appointment and enjoy the benefits of a well-maintained plumbing system.
What Sets Us Apart As a Professional Drain Cleaner?
When you choose Your Local Plumbing as your professional drain cleaner, you're choosing a family-run business that truly cares about your needs. We understand the importance of delivering on our promises and providing exceptional service.
Here's what makes us stand out:
$0 Call-Out Fee
Lifetime Warranty on Workmanship
Same Day Service
Exclusive Seniors Discount
10+ Yrs Plumbing Experience
60+ 5-Star Reviews
Family Owned Business
24/7 Emergency Plumbing
100% Customer Satisfaction Guarantee
Contact us today to experience the difference between working with a trusted and reliable drain cleaner in Geelong. Our friendly and experienced team is ready to assist you and provide the top-quality service you deserve.
Explore Our Local Plumbing Services in Geelong
We understand the frustration that plumbing issues can cause, so we're here to provide you with a quick and dependable service. Our skilled team is ready to assist you with a comprehensive range of plumbing services in Geelong. Whether you're dealing with a blocked drain, need pipe repairs, or require help with any plumbing problem, we've got you covered.
Drain Cleaning Services in Geelong & Other Suburbs
If you're looking for reliable drain cleaning services in Williamstown, Point Cook, Altona, or any neighbouring region, our team of highly experienced plumbers is here to assist you. We understand the importance of a properly functioning drainage system, and we utilise advanced techniques and state-of-the-art equipment to ensure your drains are thoroughly cleaned and unclogged. Our goal is to optimise the performance of your drains and prevent future problems.
Regardless of your location, we are committed to delivering the same high-quality service and exceptional results that we are known for. We take pride in our work and strive to exceed your expectations, leaving you with clean and fully functional drains.
Contact us today to schedule a drain cleaning service in Geelong or nearby suburbs. Our friendly team is ready to assist you and provide the professional drain cleaning solutions you need.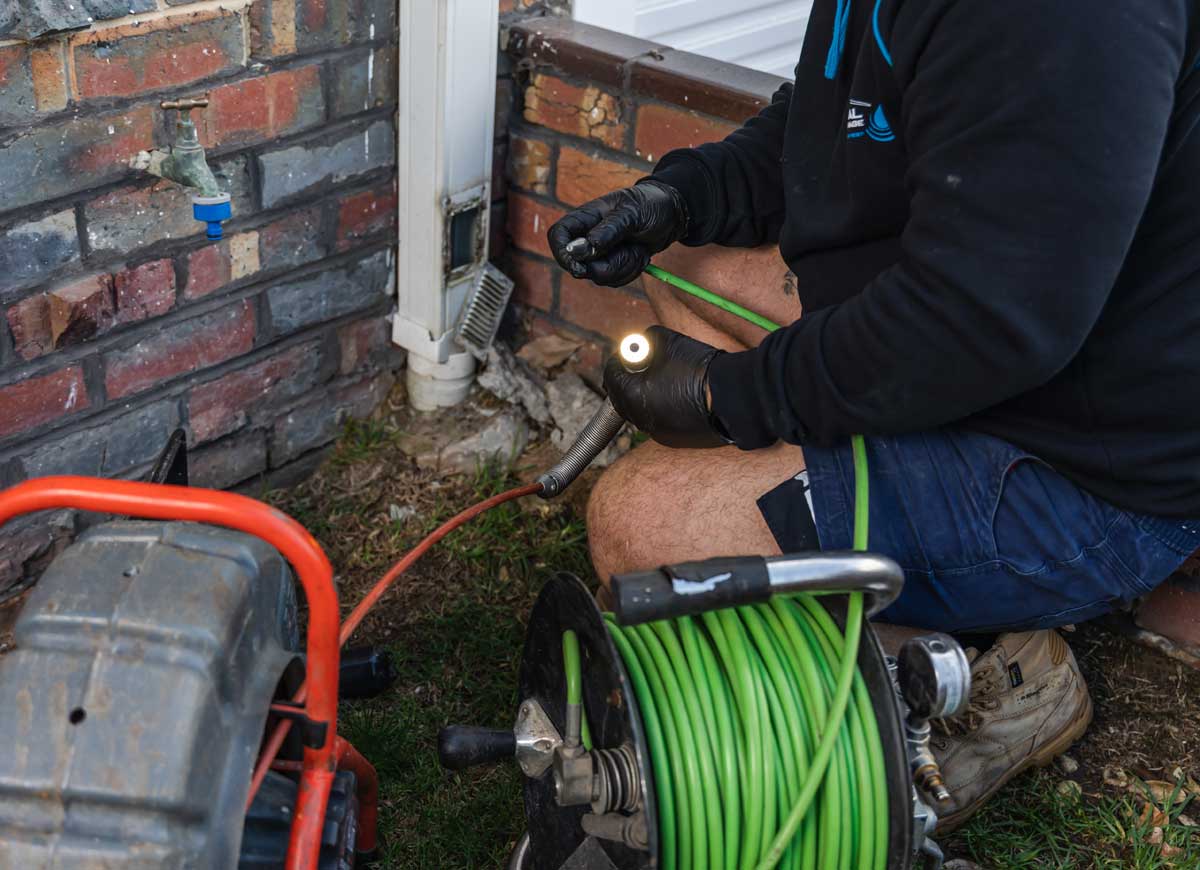 Schedule an Appointment with our Drain Cleaners Today!
Ready to tackle your blocked drain issue? Schedule an appointment with our experienced drain cleaners in Geelong today! Whether it's an emergency or a routine maintenance request, we are here to help.
Our goal is to restore the flow and functionality of your drains, allowing you to return to your daily routine without disruptions.
To get started, simply reach out to us to schedule an appointment. You can give us a call, visit our website, or send us an email. We offer a convenient and user-friendly booking process, ensuring you can find a time slot that works best for you. We offer same-day service as well for urgent plumbing crises.
Read What People Say About Our Services
When it comes to customer satisfaction, nothing brings us greater joy than receiving positive feedback from our valued clients. With over 60+ five-star reviews and counting, we have earned a strong reputation for excellence in our industry. Read on to hear about their experiences and the quality of service you can expect when you choose us for your plumbing needs.
Call Expert Blocked Drains Cleaner in Geelong Today!
We believe in absolute professionalism and take pride in holding expertise in every area of our work. Whether you need a simple installation, renovation, or complete sewer line replacement, we offer a wide range of plumbing services to meet all your needs.
"*" indicates required fields