Highly Rated Plumbers in Williamstown
When it comes to plumbing services in Williamstown, we are the highly rated plumbers that locals have relied on for over ten years. Our extensive experience and commitment to excellence set us apart as the go-to choice for all your plumbing needs.
At our family-owned and operated business, we believe in the power of building lasting relationships with our customers. Our commitment to personalized attention, friendly service, and unwavering dedication to your satisfaction sets us apart. Going above and beyond is our standard, ensuring that your experience with us exceeds all expectations.
We understand that plumbing problems can already be stressful, and the last thing you need is confusion or unexpected costs. Instead, we provide simple quotes, streamlined processes, and straightforward solutions for all your plumbing issues.
If you're like most of our valued customers, you demand nothing short of top-notch customer service at affordable rates for your plumbing needs. So, if that's what you're looking for, you've arrived at the right place.
What to Expect from Our Plumbers in Williamstown?
When you choose our Williamstown plumbers, you can expect a service that combines the expertise of a family-run business with a commitment to customer satisfaction. When you entrust us with your plumbing needs, here's what you can expect from our services.
When our skilled tradesmen arrive at your location, you can expect them to be neatly dressed in our distinct Your Local Plumbing uniform, arriving in branded vehicles that are easily recognisable.
They will carefully inspect the plumbing issue at hand. They will take the time to listen to your concerns and discuss the best course of action with you.
If you're satisfied with the quote we provide, our plumber in Williamstown will get to work right away. However, if you're not pleased with the proposal for any reason, there's absolutely no obligation on your part. We won't charge a call-out fee for our time and advice.
After job completion, our plumbers in Williamstown will carefully review the job and double-check that everything has been completed to your satisfaction. If any concerns or additional adjustments are needed, we will address them promptly and ensure you're fully content before finalising the payment process.
We don't just offer a service; we aim to build long-lasting relationships with you. We provide an unwavering commitment to your satisfaction, which is why our plumbing service is backed by a lifetime warranty. Your confidence and peace of mind are of utmost importance to us.
Why Choose Us As Your Plumber Williamstown?

Affordable Prices, No Hidden Costs
Our uniquely tailored packages assure that you get the best prices for top-class services with all costs transparent and extremely competitive.

10 yrs+ of Experience
Our team of highly qualified and experienced experts makes sure that work is done with the utmost professionalism and especially sought after service.

100% Customer Satisfaction
We strive to achieve customer satisfaction, and maintain high standards of workmanship at all times.

Serviceable & Available 24*7
We firmly believe that quality services are always precisely focused on round the clock servicing and being on-time which we completely abide by.
Reliable Plumbers that Williamstown Residents Trusts
We understand that plumbing issues can be extremely inconvenient, especially when they arise in the midst of a busy day. Our dedicated team of professional plumbers in Williamstown knows the urgency of these situations. When you reach out to us with a plumbing crisis, we prioritise your call and take immediate action. Our plumbing service team is swiftly dispatched to your location, ensuring that help is coming as soon as possible.
If you're short on time, rest assured that we have you covered. We provide a hassle-free service with our $0 no-obligation call out fee, allowing you to get an idea of your plumbing options without any financial commitment.
Moreover, when you choose our team as your local plumber in Williamstown, you'll get advantage from our similar-day service. We understand the importance of resolving plumbing issues promptly, and our dedicated professionals are committed to providing timely assistance.
We take pride in our ability to provide a rapid response, guaranteeing a 30-minute arrival time for those critical plumbing jobs that require immediate attention. Our team is available 24 hours a day, 7 days a week, ensuring you never have to face a plumbing emergency alone.
Find: Professional Williamston Plumber Near Me
When searching online for a "plumber near me", we encourage you to take a few extra minutes to read legitimate Google reviews before making your choice. By delving into the experiences and feedback shared by real customers, you can gain actionable insights into the service quality provided by different plumbing professionals.
At Your Local Plumbing, we take pride in our positive reputation and the satisfaction of our customers. By hearing directly from our valued customers, you can gain confidence in our abilities, professionalism, and dedication to providing top-notch plumbing solutions. Their experiences can give you a clear picture of what to expect when you choose our services.
We are proud of the trust and confidence our clients have placed in us, and we strive to maintain our commitment to excellence in every service call we take.
Importance of Finding a Local Plumber in Williamstown VIC
When it comes to your plumbing system, it is imperative to enlist the services of a local plumber who not only possesses the necessary expertise but also prioritizes delivering an exceptional customer experience. Choosing someone near you brings numerous advantages that every homeowner should be aware of.
Perhaps, one of the most significant advantages of hiring a local plumber is their proximity to your location. Plumbers receive calls day in and day out, and being located nearby allows them to respond quickly to your plumbing needs.
At Your Local Plumbing, we aim to provide you with an exceptional experience that exceeds your expectations. We strive to deliver such outstanding service that you become a loyal and satisfied repeat customer. There's no greater satisfaction for us than building long-term relationships with our valued customers, as it signifies that we have successfully achieved our objective.
By choosing a local plumber in Williamstown, VIC, you can expect expert advice, best solutions for your specific situation, and quality workmanship that stands the test of time.
Plumbing Emergency? Our 24/7 Williamstown Plumbers Got You Covered
Plumbing emergencies can arise any time, whether it's during regular business hours or in the middle of the night. That's why we offer round-the-clock availability for emergency plumbing solutions. When you're facing a plumbing crisis, you can rely on us to be there for you, no matter the hour.
Our plumbers in Williamstown,VIC are prepared to respond promptly to your emergency. With our extensive experience and expertise, we can handle a wide range of urgent plumbing issues, from burst pipes to overflowing toilets and more. You can have confidence in our ability to arrive swiftly and efficiently resolve the problem, minimising any potential damage and restoring your peace of mind.
Our utmost priority is to ensure your safety and comfort, offering timely and efficient solutions precisely when you need them. Don't hesitate to reach out to us in a plumbing emergency – we're here to help 24/7.
What Sets Us Apart As Emergency Plumber Williamstown?
At Your Local Plumbing, we take pride in being the go-to emergency plumber in Williamstown. Our exceptional service and commitment to customer satisfaction set us apart from the rest. Here's what makes us unique:
$0 Call-Out Fee
Lifetime Warranty on Workmanship
Same Day Service
Exclusive Seniors Discount
10+ Yrs Plumbing Experience
60+ 5-Star Reviews
Family Owned Business
24/7 Emergency Plumbing
100% Customer Satisfaction Guarantee
When you choose us, you're choosing a family-run business that values your needs and delivers on its promises. Give us a call today to experience the difference of working with a trusted and reliable emergency plumber  Williamstown.
Explore Our Local Plumbing Services in Williamstown
Whether you're a homeowner or a business owner in Williamstown, we are here to serve you. We are your trusted local plumbing experts, offering a wide range of services to meet all your plumbing needs. Some of our plumbing services include:
Plumbing Services in Williamstown & Other Regions
Whether you're in Williamstown, Point Cook, Altona, Melbourne, Geelong or any other region nearby, our experienced team of plumbers is ready to tackle any plumbing issue you may have. From minor leaks to a complete plumbing system overhaul, we have the expertise to handle it all.
We take pride in our work and strive to deliver excellent service to every customer. When you choose Your Local Plumbing, you can trust that you're getting reliable and professional plumbing solutions.
Whether you find yourself in the midst of a plumbing emergency or require regular maintenance, our team is at your service in Williamstown and the surrounding areas. Don't hesitate to reach out to us for prompt and reliable assistance.
How Much Do Our Plumbers Charge in Williamstown?
We understand that cost is a significant concern for our customers when it comes to plumbing services. You want the assurance that you're receiving fair and competitive pricing for your plumbing job. Traditionally, plumbers in Williamstown typically charged an hourly rate, but times have changed.
We believe in offering transparency and fairness to our customers. That's why we utilise an up-front pricing system. With up-front pricing, you can have peace of mind knowing that we charge by the job, not by the hour.
What does this mean for you? It means that you will receive a clear and comprehensive quote before we start any work. There are no surprises or hidden fees. You'll know exactly what to expect, and there won't be any unexpected costs at the end of the job.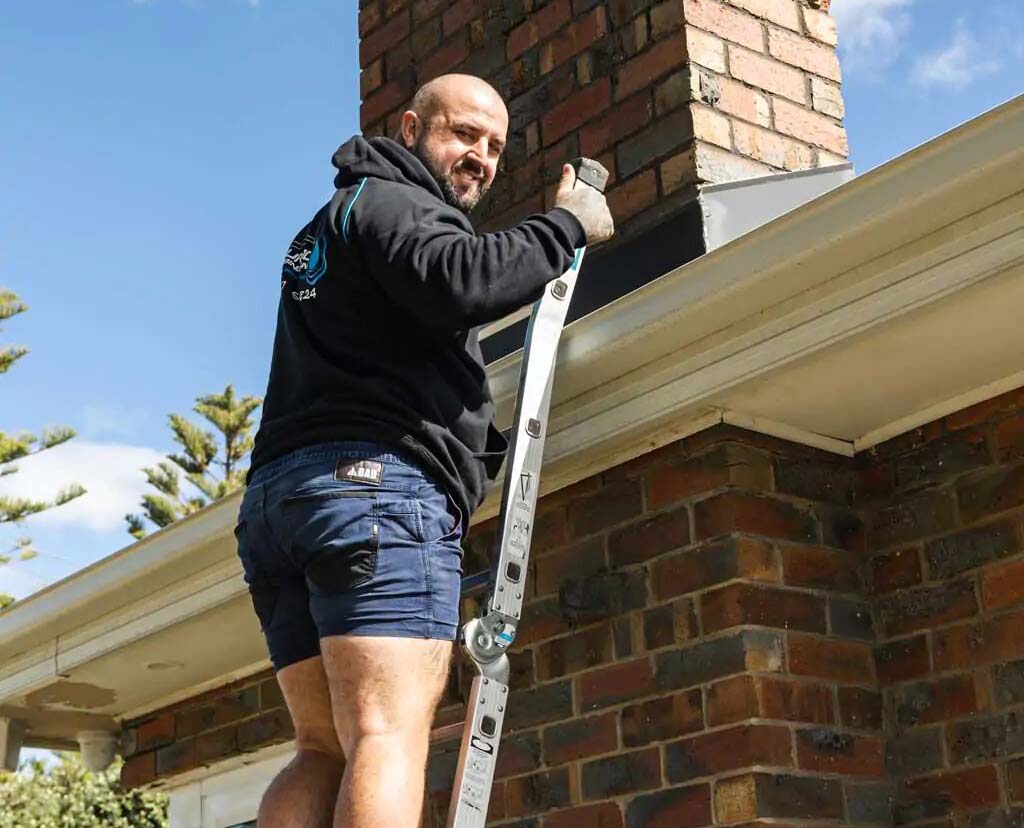 Schedule an Appointment with our Plumbers Today!
Don't delay any further in addressing your plumbing needs. Schedule an appointment with our reliable and experienced plumbers today! We understand the importance of convenience and timely solutions, so we strive to provide flexible scheduling options that can easily accommodate your busy lifestyle.
Whether you're dealing with a leaky faucet, a clogged drain, or any other plumbing issue, our team is ready to provide prompt and efficient service. Our skilled technicians will arrive on time, equipped with the necessary tools and knowledge to complete the job.
To schedule an appointment with us, simply give us a call or fill out our contact form. Our friendly staff will assist you in finding a convenient time slot that works for you.
Read What People Say About Our Services
With over 60+ five-star reviews and counting, we take immense pride in the positive feedback we receive. Take a moment to read what our satisfied customers have shared about their experience with Your Local Plumbing.
Get A Free Quote Today For All Your Plumbing Needs
We believe in absolute professionalism and take pride in holding expertise in every area of our work. Whether you need a simple installation, renovation, or complete sewer line replacement, we offer a wide range of plumbing services to meet all your needs.
"*" indicates required fields