Highly Rated Plumbers in Essendon
When it comes to plumbing services in Essendon, we have been the trusted and reliable choice of local residents for more than a decade. We have a solid reputation—thanks to our ample experience and unwavering commitment to providing excellent service. So, if you need plumbing assistance, we're the ones to call. We're a family-owned and operated business, so we understand the importance of building long-lasting customer relationships.
When you choose us as your plumbers in Essendon, you can expect personalised attention, friendly service, and a genuine dedication to ensuring your satisfaction. We truly go above and beyond to make sure you receive an efficient plumbing service.
We know that plumbing problems can be a major hassle and cause a lot of stress. That's why we strive to make things as easy as possible. No confusing quotes or unexpected costs, just premium services at the most affordable prices. So, rest assured, we've got you covered when it comes to your plumbing requirements.
What to Expect from Our Local Plumbers Essendon VIC?
When you choose our plumbers in Essendon, you're signing up for top-notch plumbing assistance. We're a team of plumbers in Essendon that truly cares about your satisfaction. Here's what you can expect when you put your trust in us for your plumbing needs:
Our skilled tradesmen will show up at your place looking sharp in our Your Local Plumbing uniform. You can't miss us with our branded vehicles pulling up.
They'll take the time to assess your plumbing issue carefully. We value your input, so they'll listen attentively to your concerns and discuss the best action plan with you.
If you're happy with the quote we provide, our plumbers in Essendon will roll up their sleeves and get to work right away. But here's the deal: if you're not thrilled with the proposal for any reason, there's no pressure on your part. We won't charge you a dime for our time and advice.
Once the job is done, our plumbers in Essendon will thoroughly review it to ensure everything meets your expectations. If there are any loose ends or adjustments needed, we'll take care of them. We want you to be satisfied before we wrap things up and finalise the payment process.
We're not just in it for a one-time job. Our goal is to build a lasting relationship with you. That's why we offer a lifetime warranty on our plumbing service. When you work with us, we want you to have complete confidence and peace of mind.
Why Choose Us As Your Plumber Essendon?

Affordable Prices, No Hidden Costs
Our uniquely tailored packages assure that you get the best prices for top-class services with all costs transparent and extremely competitive.

10 yrs+ of Experience
Our team of highly qualified and experienced experts makes sure that work is done with the utmost professionalism and especially sought after service.

100% Customer Satisfaction
We strive to achieve customer satisfaction, and maintain high standards of workmanship at all times.

Serviceable & Available 24*7
We firmly believe that quality services are always precisely focused on round the clock servicing and being on-time which we completely abide by.
Reliable Plumbers that Essendon Residents Trusts
We get it—plumbing problems have a knack for showing up at the worst possible times. But don't worry! Our team of professional plumbers in Essendon knows exactly how urgent these situations can be. When you give us a call, we jump into action right away. We make your plumbing crisis our top priority, and our team will come to you in no time.
We understand that time is precious, and we respect that. That's why we offer a hassle-free service with a $0 no-obligation call-out fee. You can explore your plumbing options without any obligations and make the right choice. We're here to help, plain and simple. What's more? When you choose us as your local plumber in Essendon, you'll benefit from our same-day service. We know that getting those plumbing issues resolved quickly is crucial, and our dedicated professionals are all about providing timely assistance.
Speed is our game. We take pride in our ability to respond rapidly. We promise to be at your doorstep within 30 minutes for those critical plumbing jobs that demand immediate attention. And guess what? We're available around the clock, 24 hours a day, 7 days a week. That means you never have to face a plumbing emergency alone. We're here for you whenever you need us.
Unblock Blocked Drains & Toilets in Essendon
When dealing with blocked drains and toilets in Essendon, we've got you covered! We specialise in unblocking those stubborn plumbing issues, so you can say goodbye to all the headaches and inconvenience they cause. Our expert team is equipped with the right tools and knowledge to tackle any blockage. Whether it's a clogged drain or a backed-up toilet, we'll swiftly diagnose the problem and work on clearing it. We aim to restore the normal flow of water and ensure your plumbing system is running smoothly again.
You can trust our experienced plumbers in Essendon to handle the job with utmost care and professionalism. We understand that dealing with blocked drains and toilets can be unpleasant, so we'll work efficiently to minimise any disruption to your daily routine. So, if you're in Essendon facing blocked drains or toilets, don't hesitate to contact us. We'll provide a prompt and effective solution and restore the normal functioning of your plumbing system. Say goodbye to those pesky blockages and hello to hassle-free plumbing!
Our blocked drain services are not limited to Essendon. Whether you are dealing with a blocked drain in Geelong or any other greater Melbourne area, give us a call and we will be at your service. As you blocked drain experts in Melbourne we will provide 360-degree service coverage and deliver effective drain unblocking solutions.
Find: Professional Essendon Plumber Near Me
When you're finding a "plumber near me", we want to make sure you make an informed decision. Take a little extra time to read Google reviews before you choose. Real customers share their experiences and feedback, giving you valuable insights into the quality of service different plumbers offer.
Here at Your Local Plumbing, we're proud of the reputation that we have built. By hearing directly from our clients, you'll gain confidence in our skills, professionalism, and dedication to delivering top-notch plumbing solutions. Their experiences clearly show what you can expect when you choose us.
We work hard to maintain our commitment to excellence in every single service call we handle. So, when you choose us, you can be sure you're getting the best.
Importance of Hiring an Experienced Local Plumber in Essendon
When it comes to your plumbing system, it's important to hire a local plumber who really gets it. There are many advantages to choosing someone near you.
First, having a local plumber means they're nearby. And that's quite helpful when you're dealing with a plumbing emergency. They respond quickly and save the day!
Here at Your Local Plumbing, we want to exceed your expectations in every way possible. We aim to provide exceptional service so that you become a happy, loyal customer who keeps returning. By picking us as your local plumber in Essendon, VIC, you're in for some serious perks. You'll get expert advice, the best solutions tailored to your specific situation, and workmanship that lasts a lifetime. We don't mess around when it comes to quality. So, don't hesitate to go local when facing plumbing issues. We're here to make your life easier and your plumbing better. Trust us; you won't be disappointed!
Plumbing Emergency? Our 24/7 Essendon Plumbers Got You Covered
Plumbing emergencies don't care about the time of day. They can strike any time and bring down the comfort and functionality of your property. But guess what? We've got your back with our round-the-clock emergency plumbing services. Yep, that means our emergency plumbers in Essendon are here for you 24/7, no matter when the emergency strikes.
You don't have to panic when dealing with a plumbing crisis. Our plumbers in Essendon, VIC, are ready and waiting to spring into action. Burst pipes, overflowing toilets, you name it – we know exactly how to handle it. With our years of experience and expertise, we'll be at your doorstep and tackle the problem head-on.
Our goal? Fix things quickly, prevent further damage, and bring back your peace of mind.
Your safety and comfort are our top priorities. We're committed to providing effective solutions when you need them the most. So, when that plumbing emergency hits, don't hesitate to contact us. Day or night, we're here to lend a helping hand and get your plumbing back on track.
What Sets Us Apart As Emergency Plumber Essendon?
Here at Your Local Plumbing, we're proud to be known as your top choice for emergency plumbing in Essendon. Our premium service and unwavering dedication to customer satisfaction stand out from the competition. But what sets us apart?
$0 Call-Out Fee
Lifetime Warranty on Workmanship
Same Day Service
Exclusive Seniors Discount
10+ Yrs Plumbing Experience
60+ 5-Star Reviews
Family Owned Business
24/7 Emergency Plumbing
100% Customer Satisfaction
We're here to handle your plumbing emergencies with expertise and care. Let us show you why we're the ones you can count on.
Explore Your Local Plumbing Services in Essendon
At Your Local Plumbing, we aim to be the one-stop solution for all your plumbing needs. We specialise in providing comprehensive assistance and be the one team you can rely on for all your major and minor plumbing requirements. Our plumbers in Essendon offer several services under one roof, including:
Plumbing Services in Essendon & Other Suburbs
We cover all of Melbourne under our plumbing services, including Essendon, Point Cook, and Altona, to name a few. Our team of experienced plumbers is all geared up and ready to tackle any plumbing problem. From those pesky little leaks to a total plumbing system overhaul, we have the skills and know-how to handle it all.
We take immense pride in our work, and our mission is simple: to provide excellent service to every customer. When you choose Your Local Plumbing, you're choosing reliability and professionalism that you can count on.
So, whether you're stuck in a plumbing emergency or just need some routine maintenance, don't hesitate to give us a ring. We're here to serve you in Essendon and all the surrounding regions. No plumbing challenge is too big or too small for us. Let us be your plumbing specialists and wave goodbye to those plumbing headaches.
How much do our Plumbers charge in Essendon VIC?
Cost is a big factor when it comes to plumbing services, and we want to ensure you feel confident that you're getting a fair deal. We're all about transparency and fairness. That's why we've adopted an up-front pricing system designed to ease your mind. With our approach, we charge based on the job, not by the hour. It means you won't be left in the dark regarding pricing. Before we even lift a wrench, we'll give you a detailed quote that covers everything. You'll know what you're getting into, and there won't be any unexpected costs popping up at the end of the job.
Our Essendon plumbers believe in keeping things straightforward and upfront, so you can relax and trust that you're getting the best value for your plumbing needs. Say goodbye to those pricing worries and hello to clear, transparent quotes. We've got you covered every step of the way.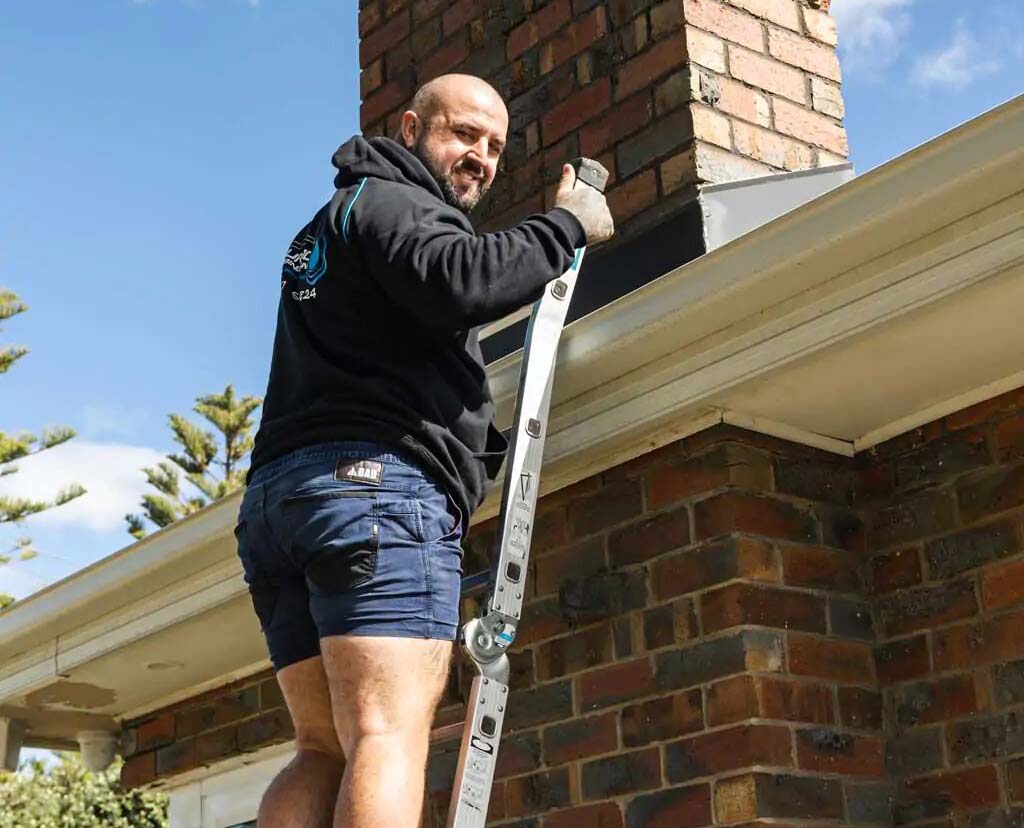 Schedule an Appointment with our Plumbers Today!
No need to put off those plumbing issues any longer. Schedule an appointment with our reliable and experienced plumbers in Essendon today, and let's tackle those plumbing problems head-on.
We understand that life can get super busy, but we have your convenience in mind. We offer flexible scheduling options that fit right into your jam-packed lifestyle—-no need to stress about finding time for us. We'll work around your schedule, making it easy for you to get the plumbing help you need when you need it.
So, how do you schedule an appointment? Just give us a call or fill out our contact form, and our friendly staff will be there to assist you. We'll find a time slot that works perfectly for you. Don't wait any longer—reach out to us today!
Read What People Say About Our Services
We have over 60+ five-star reviews, increasing with every plumbing project we complete! Don't just take our word for it, though. Take a quick moment to read what these happy folks say about their experience with Your Local Plumbing.
Get A Free Quote Today For All Your Plumbing Needs
We believe in absolute professionalism and take pride in holding expertise in every area of our work. Whether you need a simple installation, renovation, or complete sewer line replacement, we offer a wide range of plumbing services to meet all your needs.
"*" indicates required fields