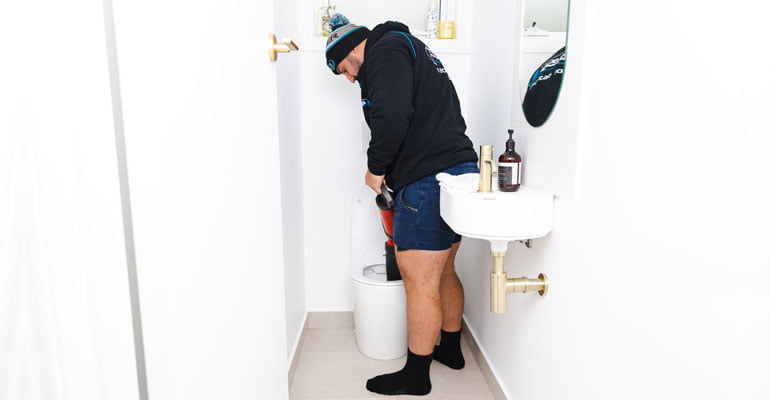 24-Hour Blocked Toilets Plumber in Melbourne
A blocked toilets Melbourne is perhaps the most inconvenient yet common problem, especially among homeowners. Have you experienced one of those moments when you flush, and it just refuses to cooperate? If yes, you know that calling in an expert is the best action.
One of the most common causes why homeowners have blockages in their toilets, is because someone might have accidentally flushed something they shouldn't have. The gradual accumulation of such substances in the sewer pipes is the most common cause of the blockage. However, there are other times when the blockage is caused due to some fault in the pipes, low water pressures, damage in the sewer pipes, etc.
Do you think your toilet is blocked, or did it backflow and cause a mess? Well, whatever the problem, call our experts to check it out. No matter the complexity of the problem or the mess created, we promise to take care of it and provide a prompt and thorough fix.
If there is one thing about blocked toilet problems we are certain about, it comes with no prior warnings. Thus, our team of fully trained emergency plumbers is available 24/7. Whether in the middle of the night or on a public holiday, we guarantee that our experts will reach you at the earliest and provide an affordable and lasting solution for all your blocked toilets Melbourne.
Call us for regular plumbing maintenance or a blocked toilets Melbourne.

Affordable Prices, No Hidden Costs
Our uniquely tailored packages assure that you get the best prices for top-class services with all costs transparent and extremely competitive.

10 yrs+ of Experience
Our team of highly qualified and experienced experts makes sure that work is done with the utmost professionalism and especially sought after service.

100% Customer Satisfaction
We strive to achieve customer satisfaction, and maintain high standards of workmanship at all times.

Serviceable & Available 24*7
We firmly believe that quality services are always precisely focused on round the clock servicing and being on-time which we completely abide by.
What Caused the Blockage in Your Toilet?
There could be multiple reasons why your toilet is blocked. And more often than not, unclogging the toilet requires more than a plunger. At Your Local Plumbing, our blocked toilets Melbourne believe in investigating the root cause of the problem before offering a solution. It ensures that our solutions are long-lasting and enhance the performance of your plumbing and drainage system.
Blocked toilets are almost always caused due to some obstruction in the pipes, such as the accumulation of "unflushable items" like tissues, plastics, etc. tree roots, or waste debris. However, there could be other reasons why you have a blocked toilet, such as problems with your sewer pipe or low water pressure, among other things.
As a homeowner, you must keep an eye out for signs that indicate your toilets are blocked.
The water level in your toilet is too low
It takes longer than usual to flush
The water in your toilet drops below normal levels or even disappears
The flush is not working correctly
There is backflow or overflow
You hear a gurgling sound coming from the other drains
The worst case scenario, in this case, would be a sudden backflow of raw sewage flooding your toilet. It could lead to health and safety hazards. Do you have a blocked toilets Melbourne on your premises? If yes, immediately call your local blocked toilet experts to have a look at it before the issue starts compounding.
At Your Local Plumbing, we work with fully trained and licensed plumbers. We use the latest inspection tools to detect the cause behind your blocked toilets Melbourne and unclog your toilets using non-invasive and safe techniques.
We offer Blocked Toilets Melbourne Plumbing service Victoria-wide including plumber Point Cook, plumber Hoppers Crossing, plumber Altona, plumber Footscray, plumber Caroline Springs, plumber Essendon, plumber Braybrook, plumber Geelong, plumber Werribee, plumber Williamstown.
Best in class services with unmatched quotes by a team of dedicated experts meeting all your plumbing requirements under one roof!
Our Blocked Toilets Plumbing Services Melbourne
At Your Local Plumbing, we have extensive experience fixing blocked toilets Melbourne and the surrounding suburbs. In our experience, most homeowners often employ the following remedies before calling in an expert:
Drain snake
Toilet plunger
Baking Soda
Boiling water
Drain snakes and toilet plungers are often effective tools for unblocking toilets. Another efficient way to unclog drains is by pouring boiling water or baking soda into the toilet. These methods are usually recommended as a preliminary measure to address toilet blockage problems.
Another very common remedy that homeowners use to unclog toilets is chemical cleaners. It is possibly the most effective measure for a quick fix. However, our experts strongly recommend against using such chemicals, as they harm your plumbing and drainage pipes in the long run.
The chemicals used in drain cleaners are often corrosive. They can negatively affect your drainage pipes, damaging them from the inside. Thus, if the plunger, drain snake, or baking soda does not work, you should call your local blocked drain specialist plumber in Melbourne at the earliest.
Our blocked toilet plumbers in Melbourne use advanced inspection tools like CCTV diagnostics to find the cause of the blockage before unclogging it. Based on their findings, the cause of the obstruction, and the condition of the pipes, they use top-of-the-line tools and the latest techniques to provide effective and lasting solutions. We always strive to fix the problem at its roots. Our solutions aim to enhance your plumbing system's efficiency, durability, and longevity.
We offer a complete range of plumbing services. Call us now to learn more about our blocked toilet services in Melbourne, schedule an appointment, or for an emergency visit.
Call us today For all your Plumbing needs under one roof
We believe in absolute professionalism and take pride in holding expertise in every area of our work. Whether you need a simple installation, renovation, or complete sewer line replacement, we offer a wide range of plumbing services to meet all your needs.
"*" indicates required fields