Highly Rated Plumbers in Footscray
Are you doing rounds on the web looking for the best plumbers in Footscray? If yes, look no further than our plumbers at Your Local Plumbing. We are a 5-star rated team of Footscray plumbers, trusted and recommended by all our clients. We have 10+ years of experience undertaking plumbing projects of all kinds and scales and, therefore, a team you can rely on for all your major and minor plumbing or blocked drains requirement.
We understand that dealing with plumbing issues in your residential or commercial building can be quite stressful. We take this stress out of the picture by sending in a highly professional and friendly team that will accommodate your needs and work without hindering the normal functioning of your property. Once you give us a call, we will arrive at your location, conduct a basic inspection, quote the prices with an accurate breakdown and initiate the work with your permission. Our plumbers Footscray will address all your queries and keep you informed of all the steps we take.
Whether you require a full-fledged plumbing installation service for your newly bought property or wish to renovate an existing system worn out by years of wear and tear, our team will display excellent workmanship and deliver the desired results.
What to Expect from Our Plumbers in Footscray?
At Your Local Plumbing we respect our clients and their properties, ensuring a positive and hassle-free experience, every time. We will always listen to your needs attentively, offering expert advice and tailored solutions to your plumbing issues, every time.
We are a family-owned business that aims to be at your beck and call and help you live a life free from plumbing troubles.
Our plumbers in Footscray always quote fair prices and never charge a penny extra for our services. You get what you pay for with guaranteed satisfaction.
We are your friendly neighbourhood plumbers and exhibit excellent conduct while working on your premises. We will follow a friendly approach and never convenience you in any way.
You can avail of our emergency plumbing services in Footscray or schedule the service at any time convenient. We will be sure to accommodate your requirements and provide tailored support.
We offer a lifetime warranty on your workmanship, so you will never have to worry about wasting money on an ineffective plumbing service.
Why Choose Us As Your Plumber Footscray?

Affordable Prices, No Hidden Costs
Our uniquely tailored packages assure that you get the best prices for top-class services with all costs transparent and extremely competitive.

10 yrs+ of Experience
Our team of highly qualified and experienced experts makes sure that work is done with the utmost professionalism and especially sought after service.

100% Customer Satisfaction
We strive to achieve customer satisfaction, and maintain high standards of workmanship at all times.

Serviceable & Available 24*7
We firmly believe that quality services are always precisely focused on round the clock servicing and being on-time which we completely abide by.
Reliable Plumbers that Footscray Residents Trust
When it comes to reliability, our team of plumbers Footscray stands out from the rest. We take pride in delivering top-notch services that our clients can depend on. We understand that you trust us with the efficient working of your plumbing system and rely on us in case of any plumbing emergencies. So, we always put our best foot forward and deliver exemplary service. Whether you wake up to a dysfunctional hot water system during peak winter morning or sense a gas leak in the middle of the night, our emergency plumbers in Footscray will come to your aid and deliver satisfactory services.
Your enquiries will always be addressed by our licensed professionals and we will provide you with real-time support. No more talking to a bot or waiting for hours on call, our plumbers in Footscray will quickly respond to your mails and calls and guide you through. Also, as we don't charge any call out fee from our clients. So, if you wish to conduct a preliminary enquiry before you commit to our services, you are more than welcome to do so. We will offer you all the guidance you need and help you make the best choice. Like you, we also want what's best for your plumbing system and that too without burning a hole in your pocket. So, we offer our services at the best prices in the industry and back that up with a lifetime workmanship guarantee.
Your Answer to Professional Footscray Plumber Near Me Searches
For a plumber to offer quick assistance in an emergency, location is a determining factor. A team located miles away will be subject to delays, which explains the growing popularity of "plumbers near me" searches on the internet. We are located just in your neighbourhood and are available 24*7. Whether you wish to schedule the plumbing work during the closing hours of your commercial property or require quick assistance at your home late into the night, you can expect our timely assistance.
While there is no shortage of plumbers in Footscray, finding a qualified and experienced team is of significance. An inexperienced and unskilled team will do more harm than good to your plumbing system. But you can keep such worries at bay as we leave no room for errors and will guarantee the efficient functioning of your entire plumbing system.
Why Hire Only Experienced Plumbers in Footscray VIC?
When it comes to your plumbing system, hiring an experienced plumber is not just a prudent decision—it's a smart investment. And the money spent on our services is an investment you will never regret. Think for yourself, would you want to trust inexperienced hands with the water supply and drainage channel of your property? No, right? So, keep any associated risks at bay with our licensed professionals at Your Local Plumbing.
With our experience, we bring unparalleled expertise to the picture. We understand the plumbing requirements of Australian households and commercial enterprises and act with conduct our installation services with due consideration to them.
We bring refined skills and a keen eye for precision to every project and ensure that your plumbing system is not just functional but also enhances your property's aesthetic appeal and value.
Our roof plumbers in Footscray have encountered countless roofing predicaments throughout our careers and have the know-how to tackle any issue that may arise. Whether it's a hidden leak, structural damage, or a complex installation, we ensure efficient and effective resolutions, saving you time, money, and headaches in the long run.
We are well-versed in industry safety standards and meticulously follow protocols to minimise risks and ensure a secure working environment. With us, you can have peace of mind knowing that your plumbing projects will be conducted safely and in compliance with all relevant regulations.
Plumbing Emergency? Our 24/7 Footscray Plumbers Got You Covered
A plumbing emergency can occur at any time and demand immediate assistance. While some emergencies, like a blocked drain, could be simply inconvenient, an emergency, like a gas leak, can also be dangerous. That's why our emergency plumbers in Footscray provide 24*7 service coverage. It is never too late or too early for us; we will arrive at your doorstep whenever required and deliver top-quality assistance.
The moment you encounter a plumbing emergency, give us a call without any delay and we will be sure to deliver speedy assistance. We will never keep you waiting and do our best to reduce any inconvenience to the minimum. Our plumbers in Footscray understand that a service delivered on time is a service delivered well. And that's exactly why we target on-time delivery of services with all our projects.
What Sets Us Apart As Emergency Plumbers in Footscray?
We are a credible name within the plumbing industry and are dedicated to providing our customers with the most satisfactory plumbing services. Here's what sets us apart from the rest:
$0 Call-Out Fee
Lifetime Warranty on Workmanship
Same Day Service
Exclusive Seniors Discount
10+ Yrs Plumbing Experience
60+ 5-Star Reviews
Family Owned Business
24/7 Emergency Plumbing
100% Customer Satisfaction
If this is what you expect from your West Footscray plumbers, connect with our team today!
Explore Your Local Plumbing Services in Footscray
At Your Local Plumbing, we pride ourselves on offering a comprehensive range of plumbing services all under one roof. We understand that plumbing issues can arise unexpectedly and disrupt your daily routine, causing inconvenience and frustration.
That's why we've designed our services to provide a one-stop solution for all your plumbing needs. Our West Footscray Plumbers prioritise convenience and efficiency. Once you connect with us, you will never have to call multiple plumbing companies for different issues.
You can make a single call and trust that we will handle everything. Our 24/7 availability ensures that we are always ready to respond to your emergencies, even in the middle of the night or during holidays.
Our Plumbing Services in Footscray & Other Suburbs
At Your Local Plumbing we aim to provide comprehensive plumbing assistance. No matter where you are located we will send our team and deliver the required service. We aim to spread our network across all suburbs of Australia and be the one team that all could trust and rely on. Our plumbing services cover diverse locations including Altona, Melbourne, Geelong, Hoppers Crossing and Point Cook to name a few. Our team is spread across these locations and when you give us a call, we will send the plumbers located nearby for prompt service delivery. So, irrespective of your location, give us a call and we will be at your doorstep, fully equipped with all the necessary tools and equipment.
How much do our Plumbers charge in Footscray?
At Your Local Plumbing, we charge a $0 Call-Out Fee and will quote the prices only after a thorough preliminary inspection. Once you give us a call and state your requirement, we will provide you with a rough estimate based on your brief. We will only quote the prices once we visit your location and determine the scope of the work. Our plumbers in Footscray will always take you through the specifications of your plumbing project and give you an exact breakdown of costs. We follow industry pricing standards and never charge extra for our services. So, open the doors to the most efficient plumbing services in Footscray at the best prices in the industry.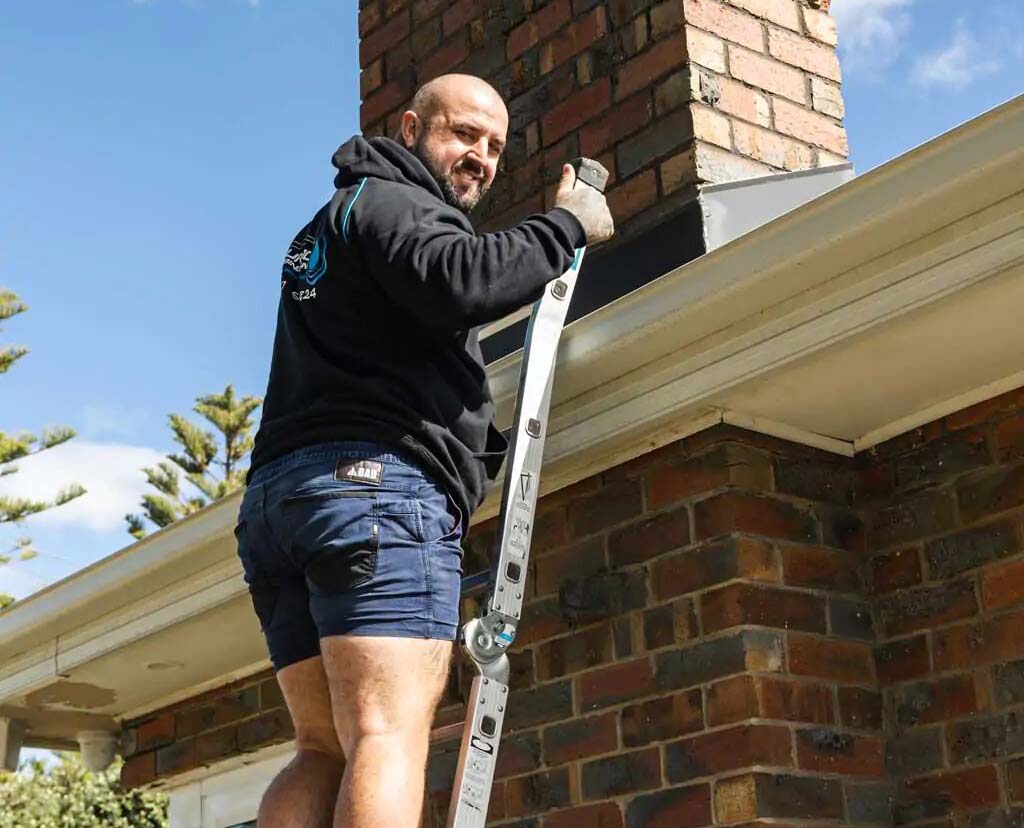 Schedule an Appointment with our Plumbers Today!
Don't let your plumbing concerns linger any longer – take action today by scheduling an appointment with our exceptional team of plumbers in Footscray! Whether it's a leaky faucet, a clogged drain, or a faulty water heater, our dedicated professionals are ready to provide you with top-notch service and timely solutions. Our convenient scheduling options allow you to book an appointment that matches your busy lifestyle easily. Rest assured that our experienced plumbers will arrive promptly, armed with the necessary tools and expertise to tackle any plumbing issue. We are just a phone call away!
To know more about our roof plumbers in Footscray and our basic plumbing services, contact us at 1800 962 224 or admin@yourlocalplumbing.com.au
.
Read What People Say About Our Services
Through years of efficient service delivery, we have gathered a line of satisfied customers who recommend us for our services. Our 60+ 5-star reviews are a testimony to our skills. Read on to hear what our past customers have to say about our plumbing services in Footscray.
Get A Free Quote Today For All Your Plumbing Needs
We believe in absolute professionalism and take pride in holding expertise in every area of our work. Whether you need a simple installation, renovation, or complete sewer line replacement, we offer a wide range of plumbing services to meet all your needs.
"*" indicates required fields