Expert Commercial Plumbers Melbourne
When it comes to commercial plumbing in Melbourne, Your Local Plumbing is your trusted partner. With our team of skilled plumbers, we are equipped to handle any plumbing challenge with ease. We pride ourselves on staying up to date with the latest industry advancements, utilising cutting-edge techniques and technologies to deliver superior results.
We understand the urgency of commercial plumbing issues, which is why we offer same-day service. Our dedicated team strives to arrive promptly at your location, minimising disruption to your business operations. We assess the issue efficiently and provide effective solutions in a timely manner, allowing you to get back to business as quickly as possible.
Whether you need a simple repair, a new plumbing installation, or any other plumbing service for your commercial property, we are committed to achieving the highest quality standard. Our skilled commercial plumbers in Melbourne employ their expertise and attention to detail to ensure that every project is completed to your satisfaction.
So, put your trust in the expertise of our locally-owned family business. Contact us today and join our list of satisfied clients who have experienced our 5.0-star service firsthand.
Melbourne's Best Industrial & Commercial Plumbing Service
We understand that industrial and commercial plumbing systems have unique requirements and complexities. That's why we specialise in delivering tailored services that address the specific needs of these sectors.
Our expertise extends to serving clients from a diverse range of sectors, including:
Schools
Retail stores
Shopping centres
Office buildings
Warehouses
Apartment developments
Restaurants
Cafes
Townhouse developments
No matter which industry you belong to, we have the knowledge and experience to handle your specific plumbing needs. So, trust the best commercial and industrial plumbers in Melbourne to deliver exceptional results for your business.
Professional Commercial Plumbing Solutions for Your Business
At Your Local Plumbing, we specialise in ensuring the smooth operation and functionality of your business with our wide range of services. Here are some key commercial plumbing services that we offer:
Blocked Drain Cleaning
Gas leak detection
Roof Plumbing Services
Backflow Prevention
Gas Pipe Line Installation & Repairs
Renovation Plumbing
Leaking Taps
Industrial Hot Water Systems
Sanitary fixture and fittings install
Sewer and stormwater pump well
We know the importance of timely service for businesses, so we offer same-day service and 24/7 emergency plumbing assistance to address urgent issues promptly. Our commitment to excellence is reflected in our lifetime warranty on workmanship and our 100% satisfaction guarantee.
Why Choose Us For Commercial Plumbing in Melbourne?

Affordable Prices, No Hidden Costs
Our uniquely tailored packages assure that you get the best prices for top-class services with all costs transparent and extremely competitive.

10 yrs+ of Experience
Our team of highly qualified and experienced experts makes sure that work is done with the utmost professionalism and especially sought after service.

100% Customer Satisfaction
We strive to achieve customer satisfaction, and maintain high standards of workmanship at all times.

Serviceable & Available 24*7
We firmly believe that quality services are always precisely focused on round the clock servicing and being on-time which we completely abide by.
Trusted Commercial Plumbing & Drainage Specialists
We understand that drainage plays a vital role in the infrastructure of plumbing networks, and it is crucial to have a well-installed and properly maintained drainage system.
If you're experiencing a drainage problem, such as a blocked drain, our team of experts is here to help. We offer comprehensive detection and diagnosis services to identify the root cause of your issue. Our experienced plumbers can thoroughly assess your drainage system using state-of-the-art equipment and advanced techniques.
We go deep to uncover the underlying problem and provide an accurate diagnosis. Whether it's a blockage, a damaged pipe, or any other drainage issue, our team has the expertise to pinpoint the problem area.
Once we have determined the cause of the drainage problem, we will recommend the best course of action to resolve it. Our team is well-versed in a wide range of repair and maintenance techniques, ensuring we can effectively tackle any drainage issue.
24/7 Emergency Commercial Plumbing Solutions
Plumbing emergencies can happen at any time, day or night, and they can severely impact your operations, productivity, and even the safety of your staff and customers. That's why our team of skilled commercial plumbers in Melbourne is available around the clock to handle any emergency that may arise.
Whether it's a burst pipe, a major leak, a malfunctioning water heater, or any other plumbing crisis, our emergency response team is just a phone call away. We understand the urgency and will dispatch a highly trained professional to your location promptly.
Our priority is to get your business back up and running as quickly as possible. We work diligently to diagnose the issue accurately and provide the most accurate repair to restore your plumbing system's functionality. Our emergency plumbers are trained to work efficiently without compromising on the quality of their work.
What Sets Us Apart as a Commercial Plumbing Company?
At Your Local Plumbing, we strive to be the premier choice for all your commercial plumbing needs. We understand that choosing the right plumbing company can significantly affect the quality of service you receive. That's why we go above and beyond to set ourselves apart from the competition. We offer:
$0 Call-Out Fee
Lifetime Warranty on Workmanship
Same Day Service
Exclusive Seniors Discount
10+ Yrs Plumbing Experience
60+ 5-Star Reviews
Family Owned Business
24/7 Emergency Plumbing
100% Customer Satisfaction Guarantee
With a combination of exceptional services, unbeatable benefits, and a commitment to customer satisfaction, we are proud to be the go-to commercial plumbing company in Melbourne. So, don't settle for anything less than the best—choose Your Local Plumbing for all your commercial plumbing requirements and experience the highest level of customer satisfaction.
Complete Commercial Plumbing Solutions in Melbourne
When it comes to complete commercial plumbing solutions in Melbourne, Your Local Plumbing is the name you can trust. We specialise in providing comprehensive plumbing services tailored to meet the unique needs of commercial properties.
We understand that downtime can be costly for businesses. That's why we prioritise prompt and reliable service. Our experienced plumbers are equipped to handle various commercial plumbing tasks, from installing fixtures, pipes, and water heaters to complex system repairs and maintenance. We use advanced tools and techniques to diagnose issues accurately and deliver effective solutions.
Our commitment to excellence extends to completing projects on time and within budget without compromising quality. Whether you run a small business or a large corporation, we have the expertise and resources to handle projects of any scale.
We believe in providing simple, straightforward quotes that clearly outline the costs of resolving your plumbing issues. You can trust us to deliver the services you need without any hidden fees or unexpected surprises. Our goal is to ensure that you have complete clarity and confidence in the services we offer.
Explore Our Local Plumbing Services in Melbourne
Searching for a plumber near me? We provide best in class services with unmatched quotes by a team of dedicated experts meeting all your plumbing requirements under one roof!
Plumbing Services in Melbourne and Other Regions
Are you in need of reliable plumbing services in Melbourne and surrounding regions? Look no further than Your Local Plumbing. We proudly serve various locations, including Geelong, Point Cook, Altona, and other nearby suburbs.
Our team of highly skilled and licensed plumbers is dedicated to providing top-notch plumbing solutions to residential and commercial clients in these areas. No matter where you are located, we are ready to tackle any plumbing issue you may have. From routine plumbing repairs and maintenance to complex installations and system upgrades, we have the expertise to handle everything.
Contact Your Local Plumbing today to schedule an appointment or to learn more about our plumbing services in Melbourne and the surrounding regions. Trust us to handle all your plumbing needs efficiently and effectively, no matter where you are located.
Schedule an Appointment with our Plumbers Today!
Ready to experience top-notch plumbing services from Your Local Plumbing? Schedule an appointment with our expert plumbers today! Whether you have a plumbing emergency, require repairs or installations, or need routine maintenance, our team is here to assist you.
Scheduling an appointment is quick and easy. Simply call us at 1800 962 224 or fill out our convenient online booking form. Let us know your preferred date and time, and our friendly staff will work with you to find the most suitable appointment slot.
We understand that your time is valuable. That's why we strive to provide punctual service and respect your schedule. When you schedule an appointment with us, you can count on our plumbers to arrive promptly and ready to address your plumbing needs efficiently.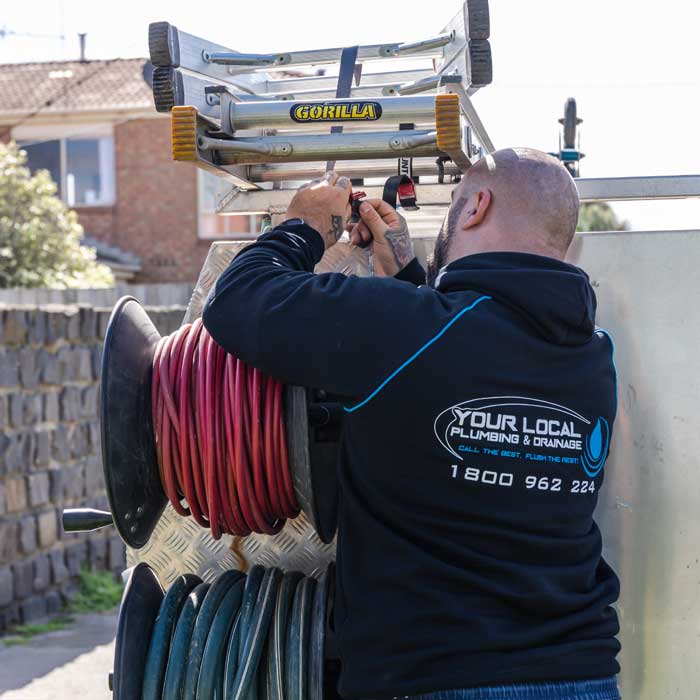 Read What People Say About Our Services
With over 60+ 5-star reviews, we take pride in the positive feedback and satisfaction expressed by our clients. Here are a few testimonials that showcase their experiences and the level of service you can expect from us:
Call Reliable Commercial Plumbers in Melbourne Today!
We believe in absolute professionalism and take pride in holding expertise in every area of our work. Whether you need a simple installation, renovation, or complete sewer line replacement, we offer a wide range of plumbing services to meet all your needs.
"*" indicates required fields